Coca-Cola celebrated the 100th anniversary of its contoured bottle design and Auckland's
Ikon Communications was selected as the media agency to organise the party.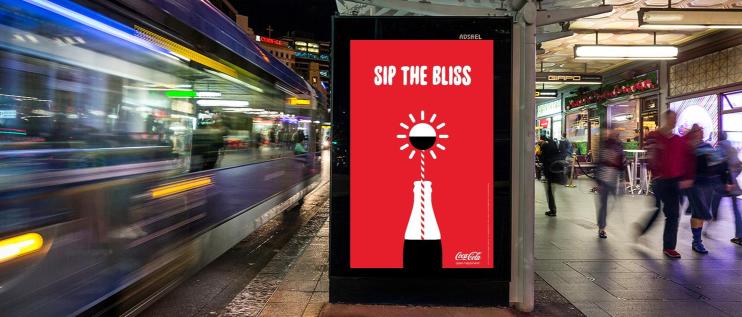 Their stunning poster designs celebrated both the contoured bottle and the new range of Coca-Cola options:
The story behind the bottle design dates back to 1915. Back then, the world was at war...and imitators of the popular
beverage were flogging off their product as the real thing. Rather than resorting to litigation, a plan was hatched
to create a distincitive bottle shape that could be patented.
Both the bottle and its contents have undergone a diet, yet the distinctive countour lives on. As has the habit of warfare.
The sharing of a beverage with someone new, someone who looks a bit different, is as good a place as any to address that.

At the end of the promotional campaign, Coca-Cola put their initial marketing spend to good use by having
their Adshel posters recycled into compendiums for use at their annual Coca-Cola Oceania conference.

Here's a peek at how they turned out:


When the Contours campaign posters were used up, Schweppes posters were also located to create just over 400 compendiums.
Click here to view all the many other Coca-Cola bottle designs as it travelled through the stylish 50's and 70's.

We have a little collection of our own:
| | | |
| --- | --- | --- |
| | | |
| | | |
| --- | --- | --- |
| | | |
Many thanks to Coca-Cola Oceania for re-using their campaign - it provided valued employment and inspired
the idea of sharing a non-alcholic drink with someone different to help prevent the need for so many poppies.

Kia ora, Cheers, Cin cin, تك:, Tulgatsgaaya, Prost,干杯, Chok dee, Kanpai and Կէնաձ

Warning: There are men that have revolting ideas about the purpose and value of women.
Extending hospitality to them only serves to validate their views. When a Fijian-Indian couple moved
in next door, manaakitanga was shown and the husband behaved... er, like a dick. There is no other way to put it.
Wishing you a much better result ~:-#

2016 UPDATE: As a sign of hope for change, if not for women in Fiji and India, then at least within the Coca-Cola Company,
see here >>> to read their Chairman and CEO, Muhtar Kent admit to Coke's failings over
water stewardship and what has been learnt from their wake-up call. A refreshingly honest read.