If you're used to online shopping, then brace yourself ~ our shop is pretty basic.
It's also more basic than pretty ~ it operates on a first to email basis.

Inner tube dogs, wallets, purses and vases:

Two of life's joys combined, dogs and bikes:


Inner tube dogs made from moutain bike fats to the skinniest of roadie racer tubes... there's a dog size to match every bike.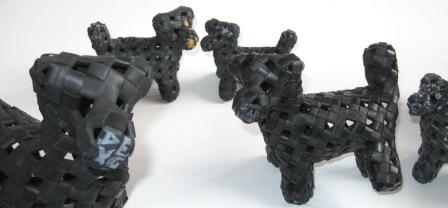 Nothing to sniff here....these little cuties have been washed and groomed. All they need is someone to play with.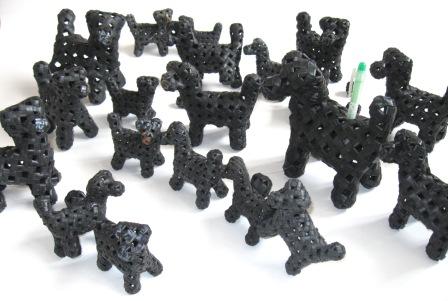 Dogs will be dogs so there are a few that come with 'tennis' balls and a few that have one leg in the air. The larger ones
can be used to hold pens and the smallest ones are so cute they don't have to do anything extra to earn their keep.

Having two or three or four doing a conga dance of sorts would look even cuter but we would say that ;-)

Dog price list:
Mountain bike dogs $20
Aprox. 20cm x15cm

Commuter dogs $20
Aprox. 12cmx10cm

Roadie racer dogs $25
They cost more as they take longer to make with being so small. Possibly like roadie riders themselves,
they are also the firmest to squeeze if using as a fun stress reliever...? ~:-#
Aprox. 7cmx5cm

Factoid:
Every dog is made of 286 loops that have been linked together with the final join in the belly button area. If the dog is a gift
for a young child, let us know so that we can make a stitch in the last join for added safety. They are robust enough
to squish and squash, play with in the bath or take apart to learn how to make your own.

Recycled inner tube wallets, card holders and keyrings: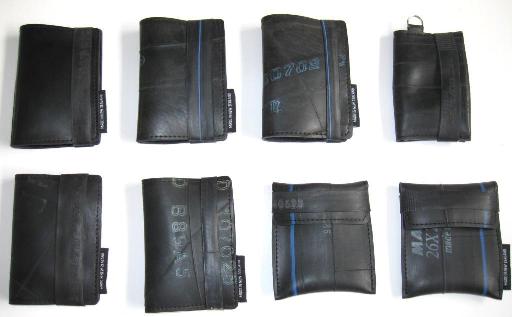 Front view of inner tube wallets, keyring and two card holders. Each is different so let us know what
features you like best and we'll make one up for you as these ones have all since sold.
Click on the images to enlarge for a better look-see.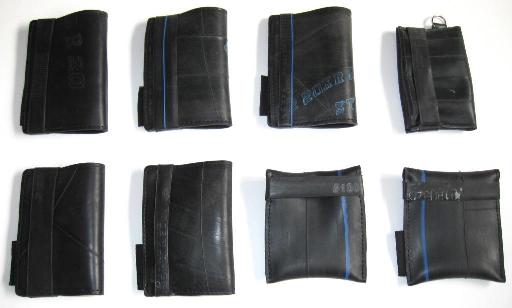 The rear view of the same items, in the same order. The wallet outer is from a truck
tube, the card holders are from a motorbike tube and the key ring is 100% bicycle.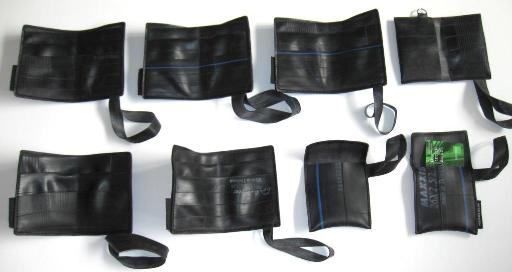 The inside view of the wallets with the layers made from bicycle tubes.
Click on the image to enlarge and see below for how they look with cards and notes in them.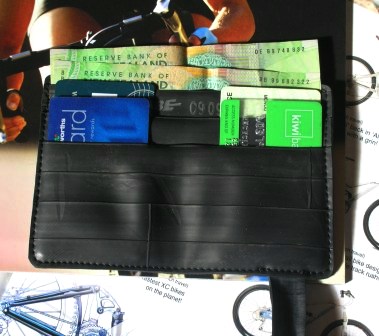 Inner tube wallet price list:
Wallets $35
Card Holders $20
Keyrings $15
Wallets measure 16x11cm when opened flat to fit $20 notes
Happy to alter the sizing for smaller versions or make larger for $50-$100 note carriers.

They are strong, durable and get shinier and smoother with use. An ideal gift for the full spectrum of road users;
from V8 piston firing petrol heads to bell ringing, basket carrying cyclists like ourselves. All good for vegans too.
Some have a woven 'Made in New Zealand' label and some don't because we forgot to sew them in. D'oh.

Recycled inner tube wrist purses: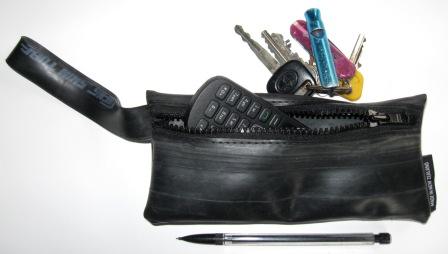 They come with a handy wrist stap and quality YKK heavy duty zip - can click on image to view close up.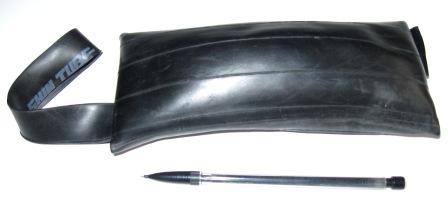 This is the rear view to show how the curvature of the tube allows room for keys, a phone, cards, moolah and some lippy.



As all the tubes are different, the sizes can vary so let us know if you'd like a kitchen sink carrier or a sleek minimalist accessory.
Note how the top right hand ones have the strap and zip function switched to accommodate the left-handed amongst us.

Say goodbye to using animal skins and noisy velcro openings and hello to a more individual and eco-friendly you... order here >>>

Recycled inner tube vases: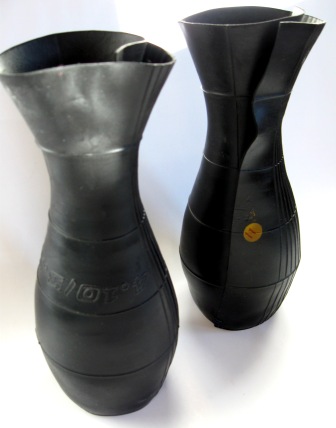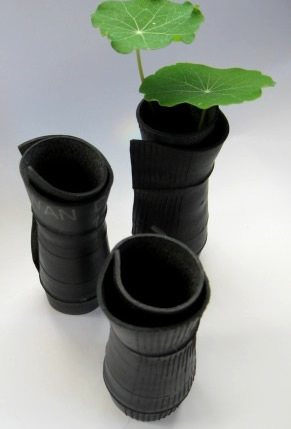 Click on the each of the images to view a close-up of the two different sizes.
The taller ones contain a heavy glass tumbler inside and the smaller ones have a glass or plastic vessel to contain the water.
The $15 larger ones measure approx, 20cm tall and the $6 smaller ones measure approx. 10cm tall.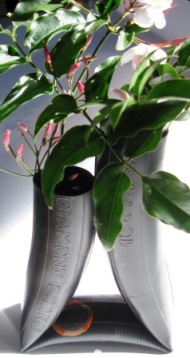 Or this $5 design uses the rubber to contain the water.

P.S. The bicycle inner tubes were kindly provided by Francis at J'ville Cycles and Dave at Mud Cycles of Karori. Thank you!
We're currently trying to source motorcycle tubes so please drop us a line if you know of any being thrown out.


Personalised notebooks themed to suit:
Below are a sample of recycled notebooks individually themed to the lucky recipient.

We make them from unwanted books that have been damaged, yet still have some re-useable pages.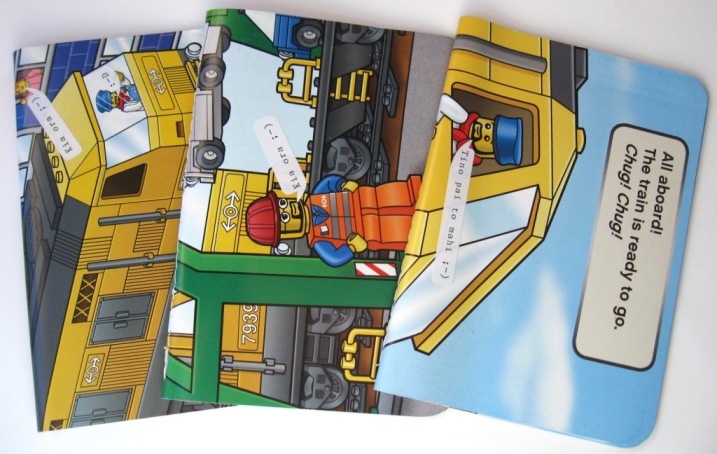 You tell us what would make your gift recipient feel special and we'll go tinker till you call out Bingo!



Can include little picture storage pockets so you can pop in a note or business card.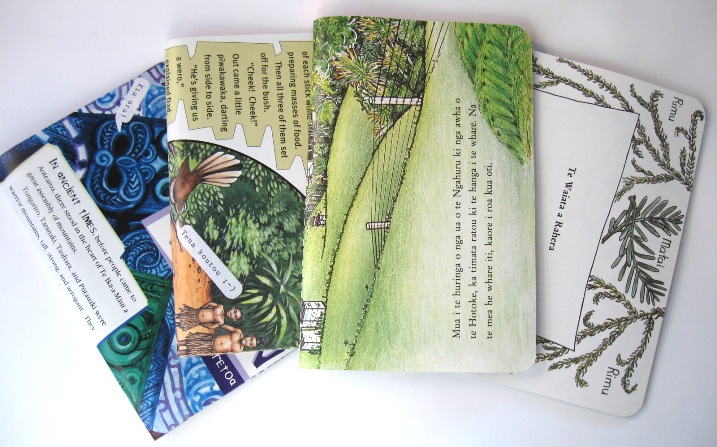 A few more in the Te Reo Maori range ~ other language requests welcome too ;-)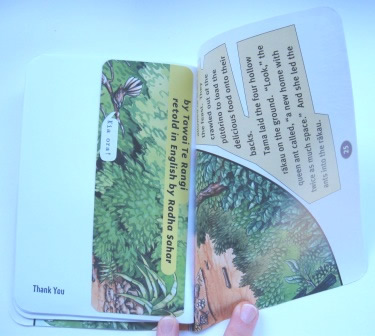 The books we use are either outdated maps, old school journals or in some way damaged, yet still with salvagable pages.
Wherever possible, the author is given recognition and the covers are made from a couple of pages each to provide
for an interesting snippet to promote the whole book.
A love of dogs is required to appreciate the humour of these notebooks ~:- #
A
bit naughty yet ha ha funny ;-) Plus, its a sneaky way to insert a love of reading into the hands of the book averse.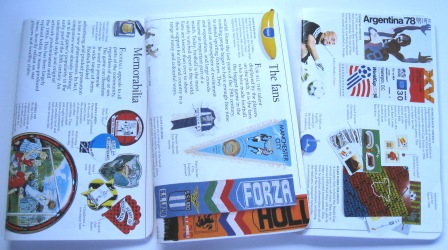 Themed notebooks make for ideal team gifts as each one is different, yet all of the same value.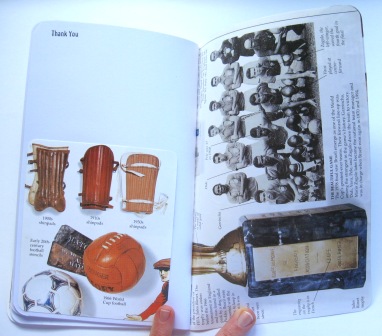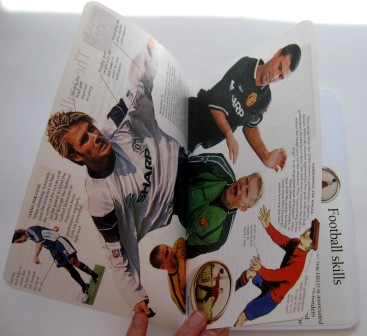 All the cut out pictures double as pockets and secret hiding places.

We also have lots of pages awaiting re-use from Star Wars annuals plus rugby, astronomy, history, science and map books in case
that's of any interest. If using for a workplace conference - can also brand the blank pages with your own conference name/logo.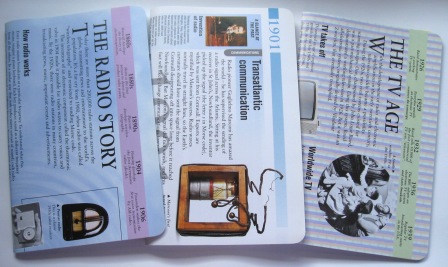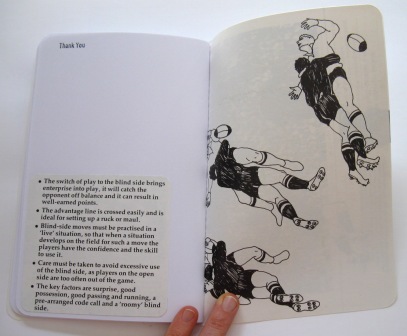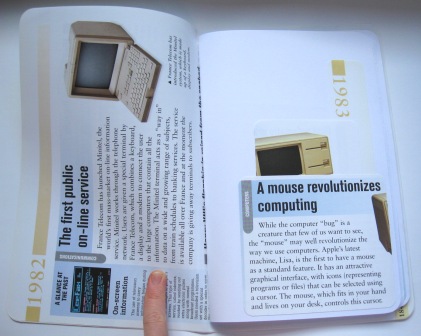 Matching business card holders or name place settings available too ;-)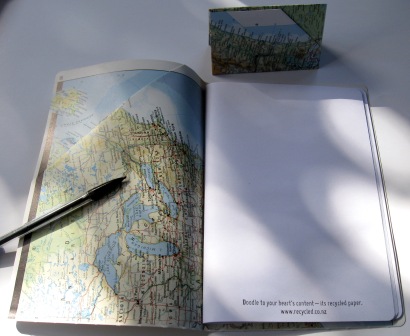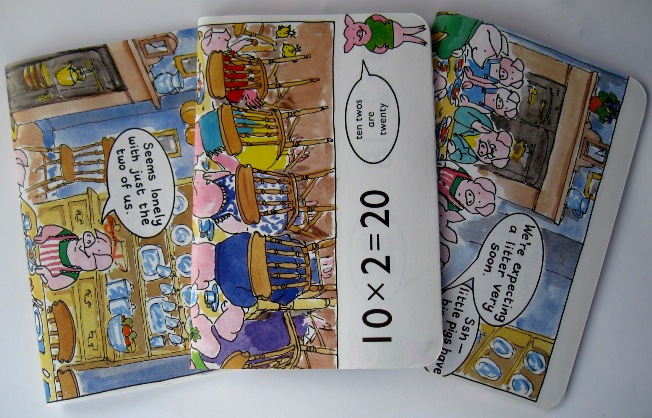 Have a go at handwriting and illustrating your own little story and then gift away ~ ideal for grandparents.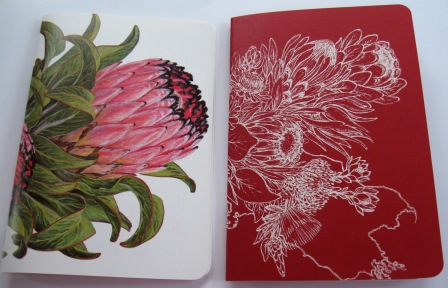 The notebooks come in A5 and A6 with 60 pages of recycled paper. Prices range from $6-$10 depending on size and no. of pockets.
Matching origami card holders are $2






Bus stop poster stationery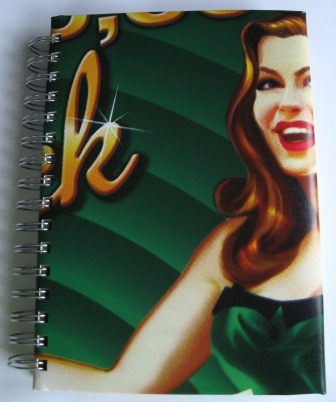 v ..........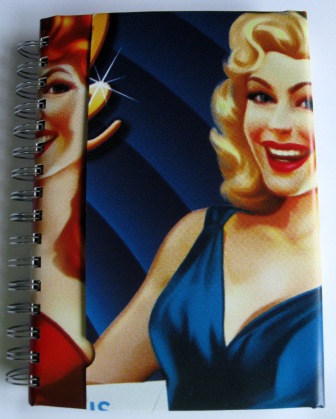 Choose your beauty from the following range of A5 recycled Adshel poster notebooks: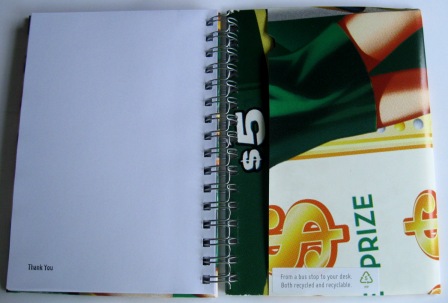 The covers are made using a nifty origami fold that provides for storage pockets at the front and back, plus a secret ninja one at the top.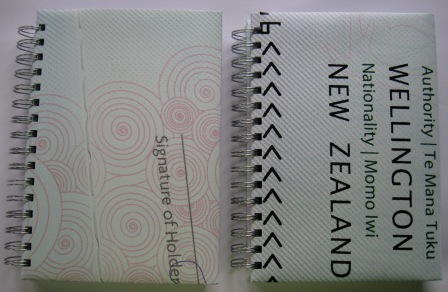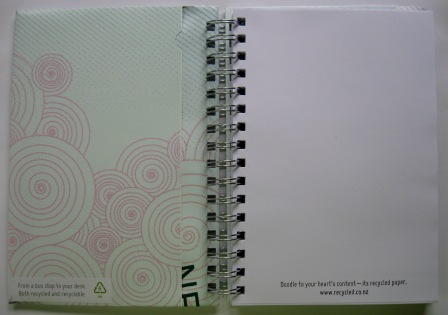 These ones are from an image of a NZ Passport. Settle the score with Customs by inserting a far more flattering photo ~:-#
Here's a dark bub...bly option to celebrate being brown and luscious.

Coincidentally, the type of print finish used for this campaign is
exceptionally smooth and nice to touch too... ;-D


For the artist in your life, how about these
One Day Sculpture
.
Creative New Zealand notebooks:
Inside view
Back cover view
Here's one for the builder dude and doodler in your life:
These posters were from a military recruitment campaign on making the switch from operating drills, to similar looking, yet more exciting machine guns!?
Their sales pitch was given a wide berth. Drill on, we say... riz-zzz-zzip sounds build houses and many a therapist knows the result of rat-a-tat-tat, splat, splat...


Anti-fizzy drink campaigners might want to look away. In case it makes any difference, the only sugar they contain
is employment and the posters were from a campaign supporting the London Olympics. Proof of this is on the back cover.
As a side note, in August 2016, Coca Cola's CEO,
Muhtar Kent openly admitted to the company's failings over
water stewardship and shares what has been learnt from their wake-up call in a refreshingly honest read >>>
And finally, as a teaser for Phoenix Football supporters, we also have loads of their posters too.
They look great and we can't wait to feature them - awaiting the ref's call whilst permission is sought.
The plasticized poster paper is a bit too thick for the origami wallets to stay shut but if
you'd still like one, we've got plenty going free with all orders until they run out.
A5 recycled poster notebooks are $25 each



Vintage maps
Long since loved or used and smelling a bit dated, maps from the 1950's are best admired from behind glass. GPS is all well and handy
but vintage maps are not merely maps ~ they are works of art. The care and detailing that went into the cartography is stunningly beautiful.
| | | |
| --- | --- | --- |
| | | |
| A map featuring NZ's little pozzie in the Pacific. | | Can click on this image to view all the detailing. |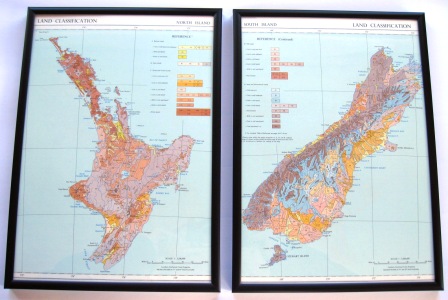 Some need to be sold as pairs as they share the same reference tables like these two featuring NZ's geology.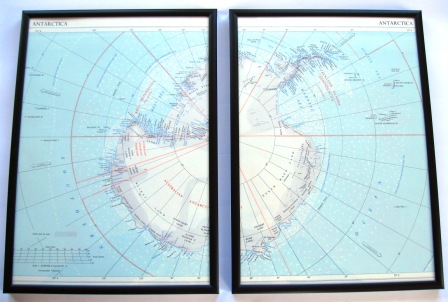 This 1950's map of Antarctica displays ice margins that no longer exist today ~:- #


| | | |
| --- | --- | --- |
| | | |
| Featuring pre-European vegetation, it's another example of things that no longer exist today ~:-# | | This colourful beauty displays the various soil types ~full of info ignored at our peril. |
| | | |
| --- | --- | --- |
| | | |
| The mid-pink areas denote remants of volcanoes! This map is super interesting and way more colourful than its North Island counterpart. | | This map places Wellington at the centre of the world! Without a doubt, it was created by government cartographers aiming to please. |
| | | |
| --- | --- | --- |
| | | |
| The rare curvature of this map is a treat. The change in colour at the top is just light reflecting off the glass - it's all the same beautiful shade of teal blue. | | Fancy that - the South Island is on top. Also interesting to see that Australia scored the lion share of Antarctica and NZ, the more watery slice of the cake... d'oh! |
We were on the hunt for unwanted window frames and sashes to use as frames when a call came in that there was a
shipment of brand new picture frames rejected for retail sale due to manufacturing defaults. The faults were as
minor as finger prints on the glass! Although understandably annoying as they had also been sealed in plastic.
For cleaning them and not wanting the plastic seal, the frames were salvaged and obtained for a great price.

All of the maps above are $20 and they have all the hooks and adjusters on the back you could ever want for.
Packaged in their orginal box with bubble wrap, they are ready to go.
Plenty of other countries and cities on offer - welcome to request other options.







Billboard purses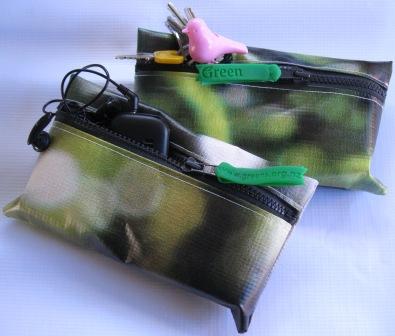 Made from Green Party election banners and silicon bracelets, these purses contain even
more fun election souvenirs on the inside. Can click on image to view close-up.
$25 each







Flag bags, hats and brooches
Coming soon... we recently got our mitts on a huge pile of ex-street flags from a variety of colourful campaigns.
;-)


Magnet Art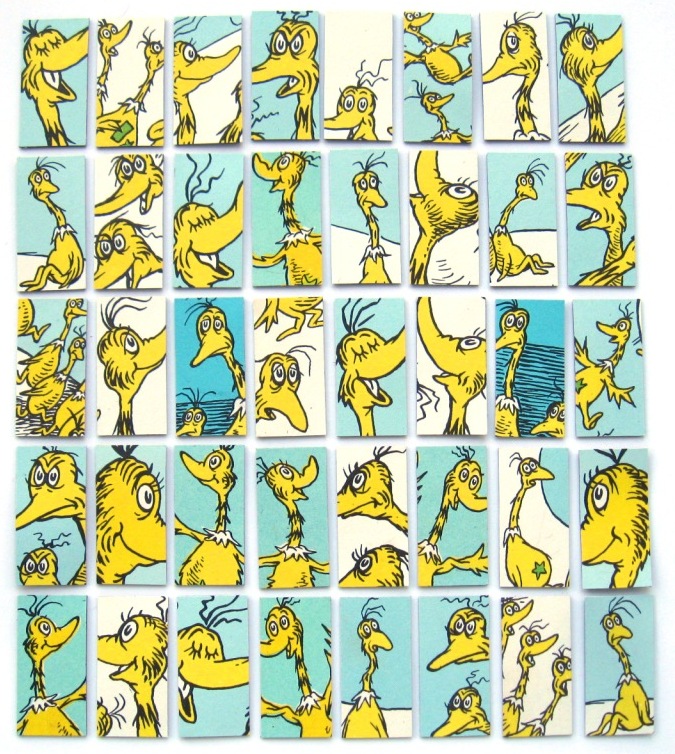 The Sneetches by Dr Seuss is such a well-loved story that we were given a book had been loved to bits, till it fell to bits.
In-between the scribbles and rips, were some salvagable bits.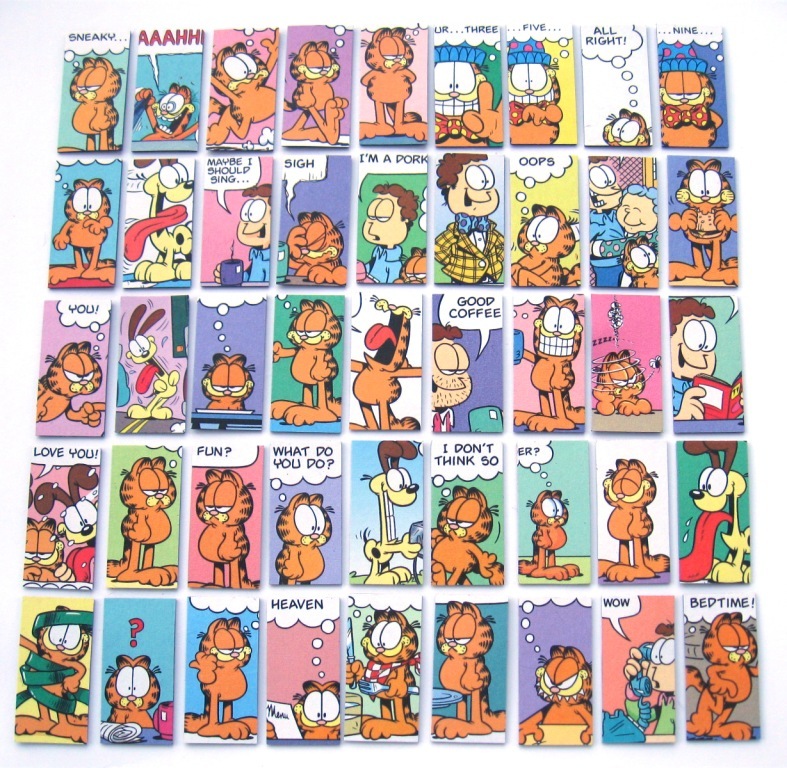 Fun magnets from a Garfield book missing it's cover but still OK inside- might help to encourage reluctant readers to have a go?
Or amuse yourself and fellow citizens by gifting them to random public places... cat lovers unite~Gareth's eyeing up Parliament.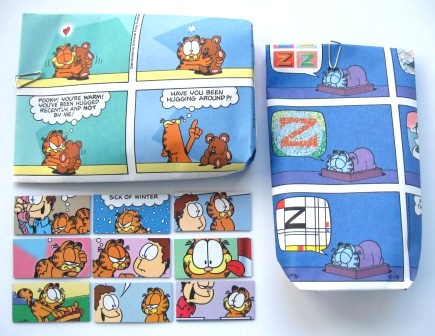 Better yet, gift him a selection in a matching giftbag...or best of all, someone who'll appreciate it ;-)
| | | |
| --- | --- | --- |
| | | |
If used to have some fun, the fun can be transferred to reading the stories and thinking up new ones with every visit to the fridge.

Have a go making your own or commission some magnets as a personalised gift.
Magnets are $1, Giftbags are $3, Giftbags with customised text $4

There are also man-friendly options:




Within reason that is... we can't entertain all of their interests.
We can however see them right for Valentine's Day with these little gifts: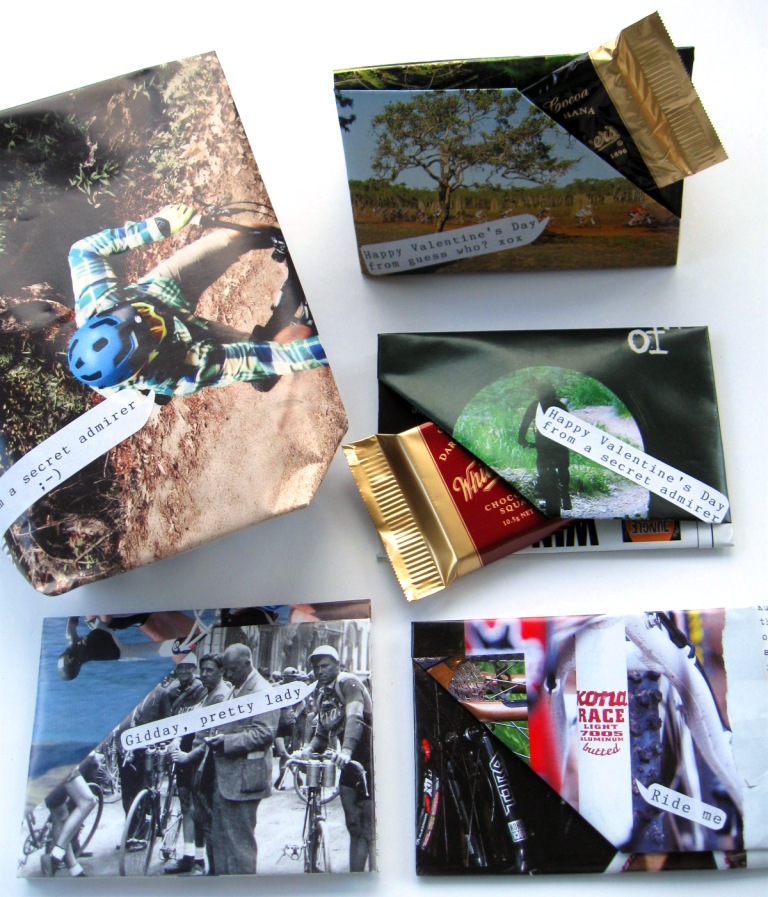 Themed card holders are $2 or$5 with a chocolate and personalised text.
Extend some love this V Day and commission a whole set for everyone in the office.
You can choose the theme and tone of text to make everyone feel special.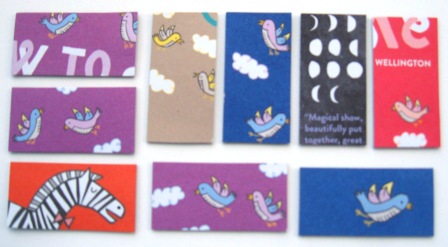 There are also lots of corporate options available and much larger magnet artworks if interested in seeing more >>>


Coreflute birds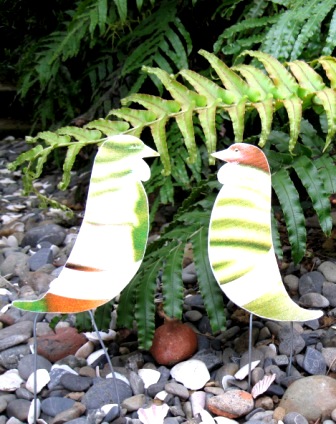 Made from real estate and election coreflute signs to entertain - either in your own garden or out in public to amuse the masses.
Like election signs, they will get pinched but also like 'missing' hoardings... they will still be out there entertaining someone, somewhere.

A pair of tui coreflute birds, strategically cut to contain and hide their rust-proof metal legs is $15

See how it's done and then have a go for yourself ;-)

If you have found something you'd like to order or have made please email >>>
Our account is Kiwibank 38 9003 0743732 02 and we are GST exempt.
Thank you
xox