Firstly, for those who are unfamiliar with the Montessori way, treat yourself by finding out more about this Italian import.
It offers wise guidance on the care of children, our elderly and each other.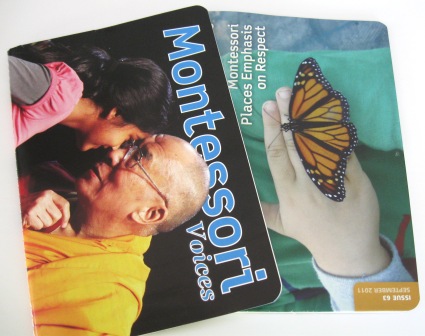 If there is an open day at a Montessori School, clear your diary and go. It will be an educational experience and a delight
to witness how wonderfully different they are to other schools. Be sure to prepare for the realisation
that you're too old to attend- that you missed out and drew one of life's shorter straws.

There is however an international movement for Montessori schools to combine with Montessori-trained rest homes...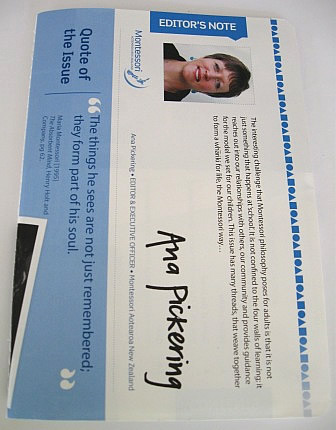 .................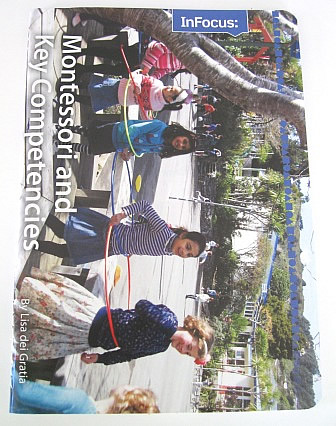 The images are of sewn notebooks were made from surplus copies of 'Montessori Voices' containing helpful features written by Montessori trained teachers - it is a recommended read for any parent and teacher.

The lovely Editor and Executive Director, Ana Pickering kindly handed over her saved publications and then said the
magic words that every contractor / employee longs to hear, "You can decide. I trust you to do a good job".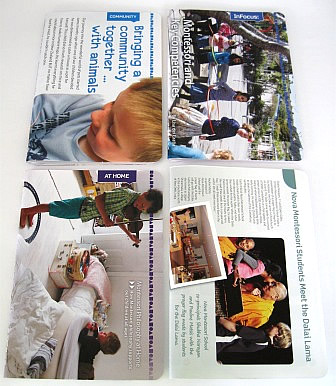 .. ....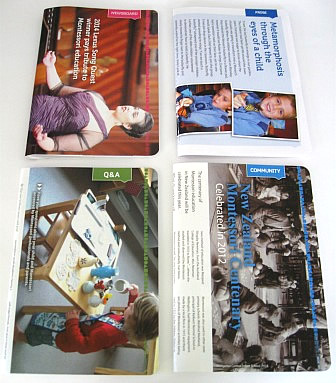 A wide variety of notebook options were made so all the teachers at the conference could find one they liked.
No mass sameness going on here and featured students were able to be matched up with their proud teacher / parent.


....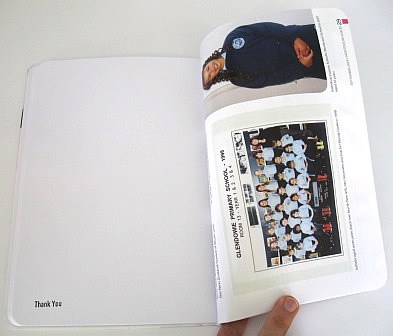 The covers were doubled up to provide for a handy storage pocket and additional reading.
Sneak a peek - that's soprano Isabella Moore, the 2014 Lexus Song Quest Winner in her younger days (top right).

Next on the to do list, was to provide some decorations for use at the conference dinner party: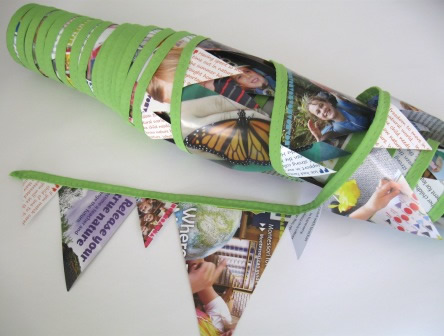 Around 6 metres of colourful bunting was whizzed up.

Table decorations were made to welcome and flower vases were set out in anticipation.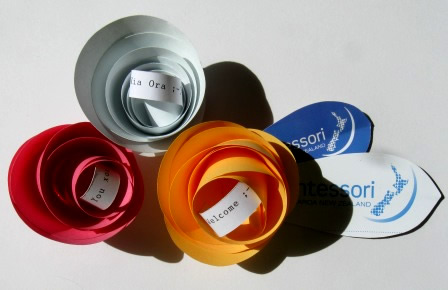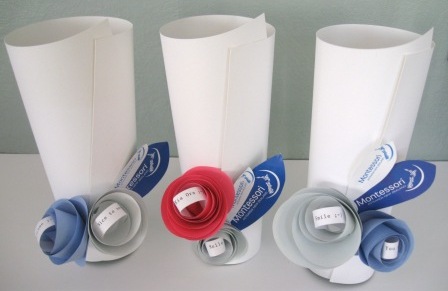 Then name place settings were made using a nifty origami pattern and embellished with text and chocolates.
The added text was left up to us - an example of the Montessori way to offer freedom within limits of responsibility.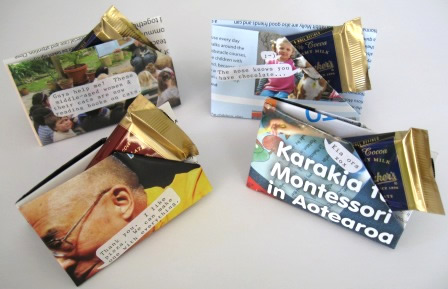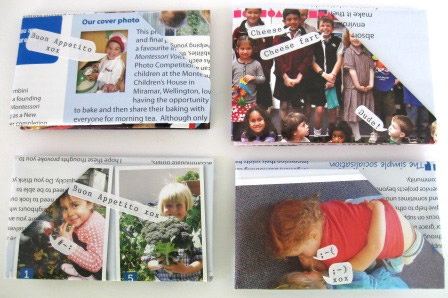 Unfamiliar with so much freedom it was a little unnerving. Advice was sought and encouragement given to have a bit of fun.
The purpose of the dinner party after all, was to enjoy meeting new people. Ice-breakers were therefore deemed ok.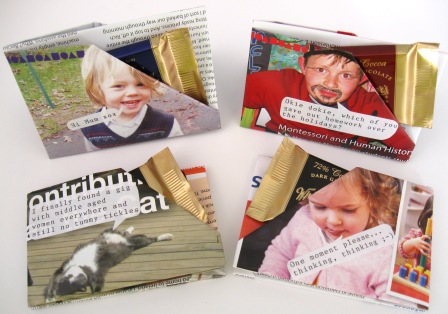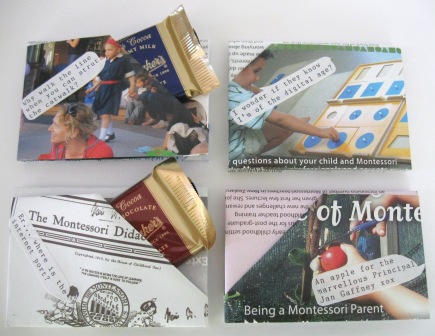 There were loads more made up than featured here. The last one on the right, made especially for Jan Gaffney, Principal of
Wã Ora Montessori School in Lower Hutt was because, she is indeed deserving of an apple on her desk. A principled principal with
the only Montessori school in NZ offering education for ages 0-18 years. Well worth visiting - click here to visit online.

Last on the to do list was to create some thank gifts for the guest speakers and overseas visitors.
Bearing in mind, there was only a box of magazines and a limited budget, here is the result: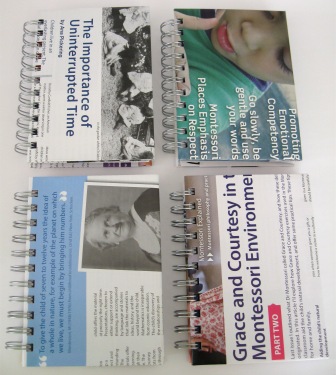 ......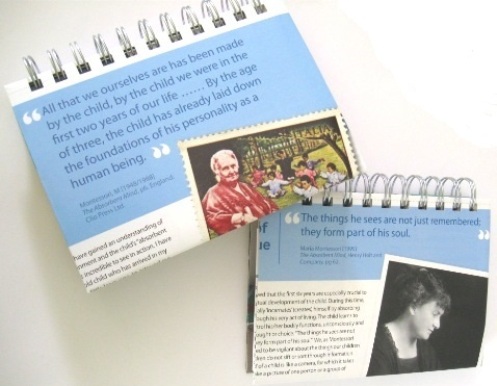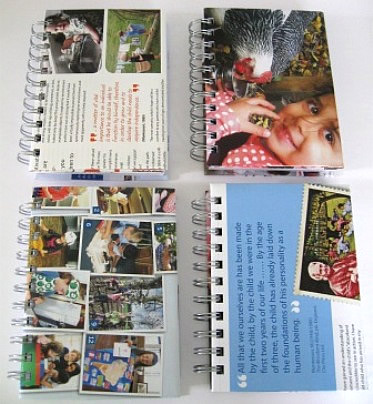 ...........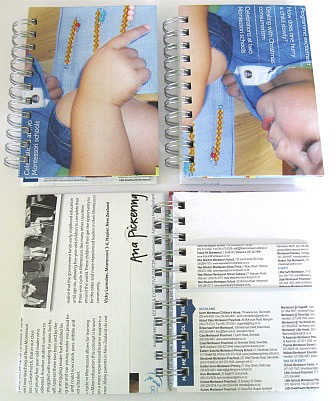 These notebooks were more substantial in the amount of paper and inside, a pocket was made out of all the Montessori School listings in New Zealand, of which there are hundreds to choose from.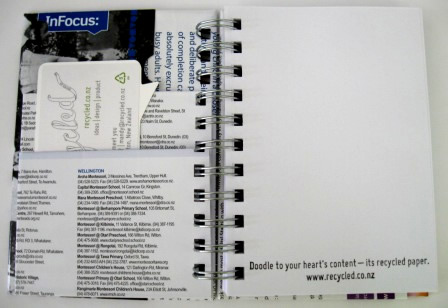 Flip the pocket over and there are 200 pages of recycled paper to fill up with the philosophy of Dr Maria Montessori, 1870-1952.


.........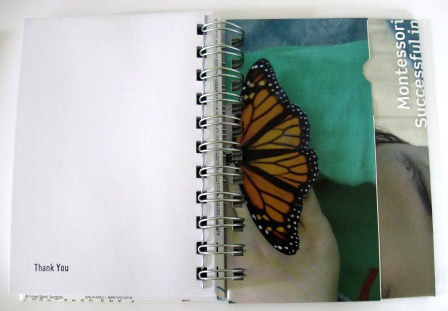 All in all, a pretty sweet example of how to let hundreds of people attending a conference know that each
is valued and special, without having to blow the budget.

Thank you very much to Ana Pickering, Editor of Montessori Voices and Executive Officer of Montessori New Zealand.
Your order provided two month's worth of local employment and much was learnt from reading the magazine.

PS. A special shout-out to introduce the newest Montessori School in New Zealand, Meraki Montessori Primary in Silverdale, Auckland. The teachers are stunning in every sense, the school has two classroom miniature dogs and the children are so lucky.
Click here to see their beautiful offering to the Silverdale community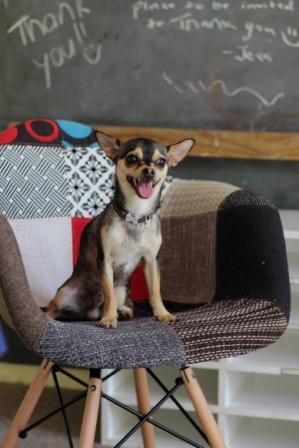 Oh to be young again and to have the chance to attend a school like the ones featured here!
xox