Sir Paul Callaghan's graduation speech at Victoria University of Wellington in December of 2010, was a beauty alright.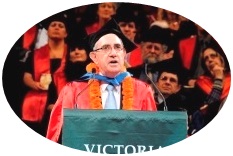 Here is an exerpt:
''What really counts in life is love: to do the work that you love, to find the partner you love, to act always with love, wasting not a moment in anger or hostility. The prospect of death makes each living moment vital, each action significant, each spoken word of immense importance.

In every human culture, in every language, in every religion, in every secular ideal, this mindfulness is present. Let me give an example, in just one of its many forms, and so beautifully expressed in German. 'Der weg ist das ziel.' The journey is the destination. We are all at a waypoint on our life's journey. Make every step count.''
If you like, you can click on each of the images below to read more about his research and insights on
how to make NZ a place where talent wants to live:
For the time poor, here is a rough summary of his advice:
| | |
| --- | --- |
| 1. | NZ needs to be a place where talent wants to live. |
| 2. | Companies should be the best in the world at what they do and hence viable and profitable. |
| 3. | They should be environmentally benign. |
| 4. | It doesn't matter what they do so long as it is legal and not morally objectionable. |
| 5. | NZ's strength lies in the weird stuff. What we excel in are the niches, the bits of technology where the big players can't be bothered with or don't think to exploit. |
Right, so with that in mind, we had a go at following his advice in our own small way and submitted samples
to Victoria University of Wellington for potential use at their Pacific Climate Change Conference in 2016.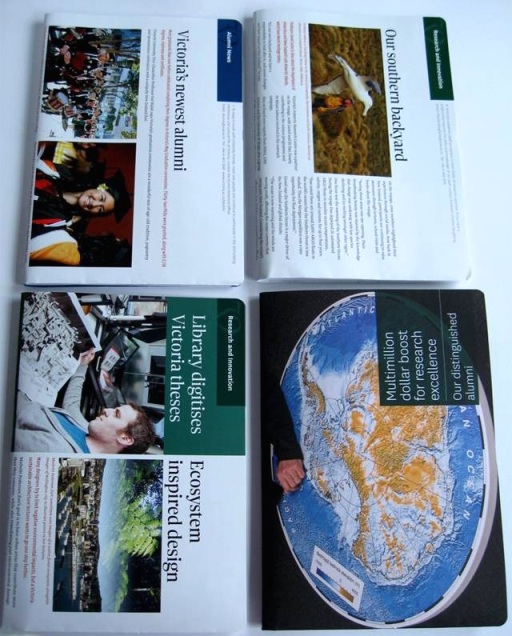 A colourful range of A5 sewn notebooks were made from VUW's 'Victorious' publication so both eco and educational.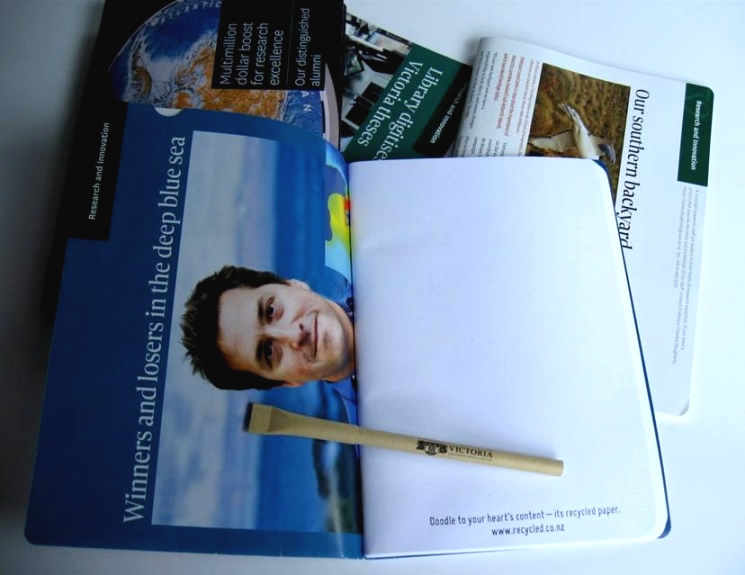 Inside view of the recycled paper notebooks with handy storage pockets built into the design.

It wasn't exactly addressing Sir Callaghan's push for technology, though with 'big brother' always watching,
illegible hand writing on potentially edible paper, is in terms of privacy, one of the most advanced
technologies available.

Add to that, the notebooks put promotional features in front of overseas guests that wouldn't
otherwise have read a copy of 'Victorious'. The concept was also ticking just as many aforementioned boxes as
NZ's dairy, beef, lamb and pork industries. Different boxes but the same amount. We wanted to tick all of his boxes.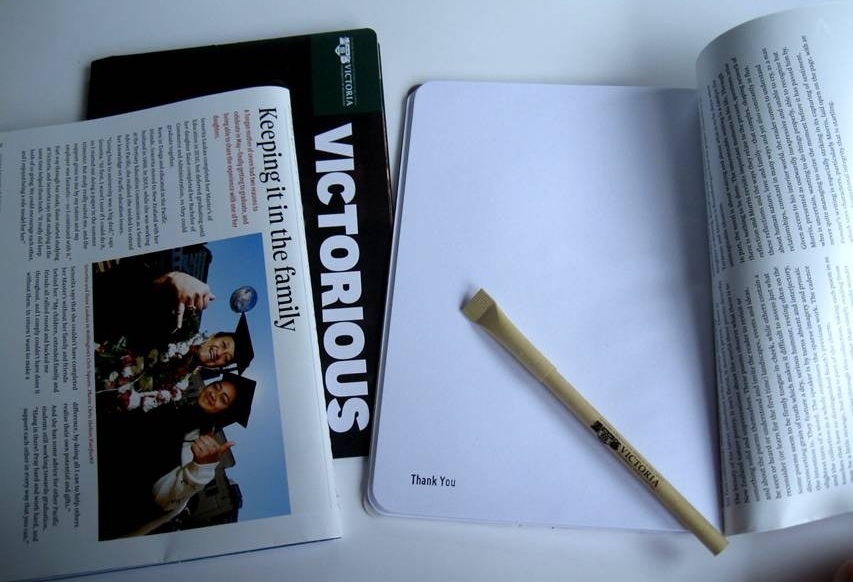 We were meeting his insistence to aim for the niche market by theming
the notebooks to feature articles on climate change and Pasifika students.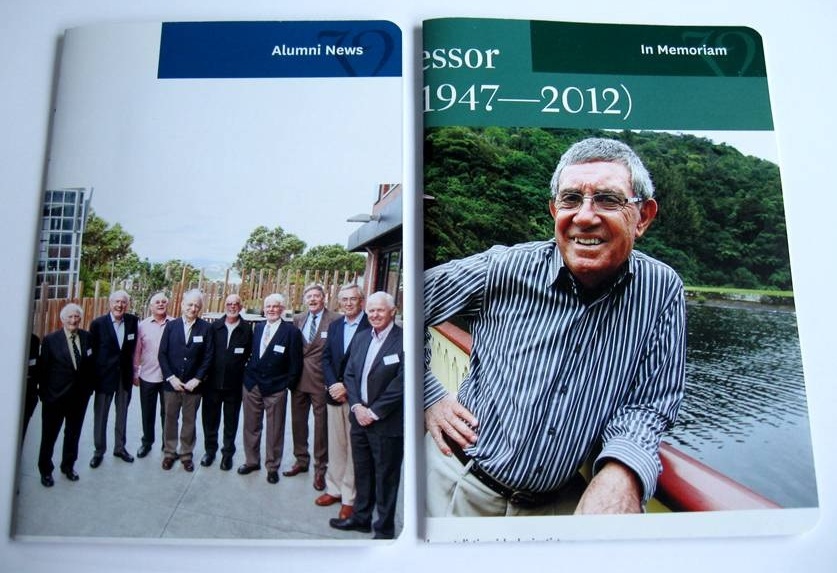 For alumni and academics, there were notebooks themed just for them too.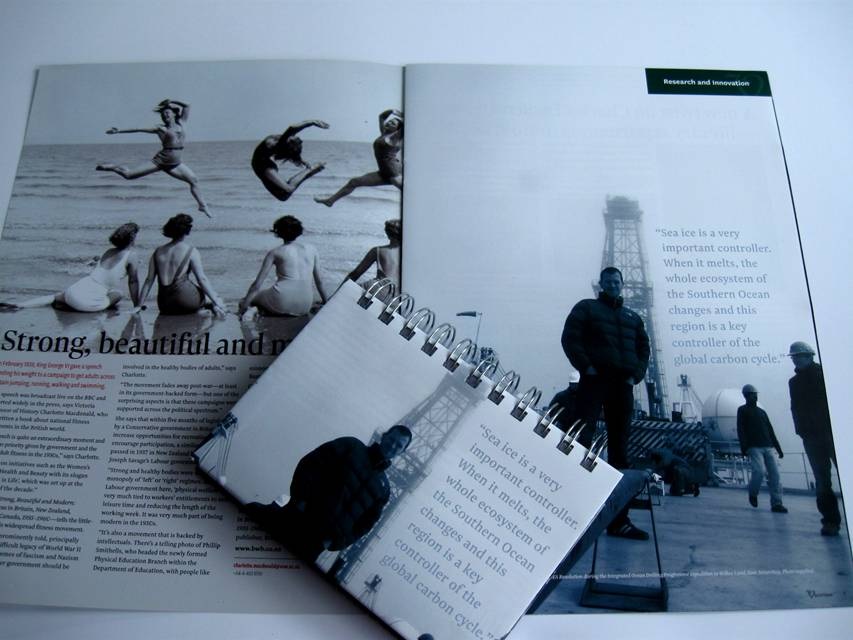 For guest speakers and volunteer helpers, there were more substantial spiral bound notebooks to use as thank you gifts.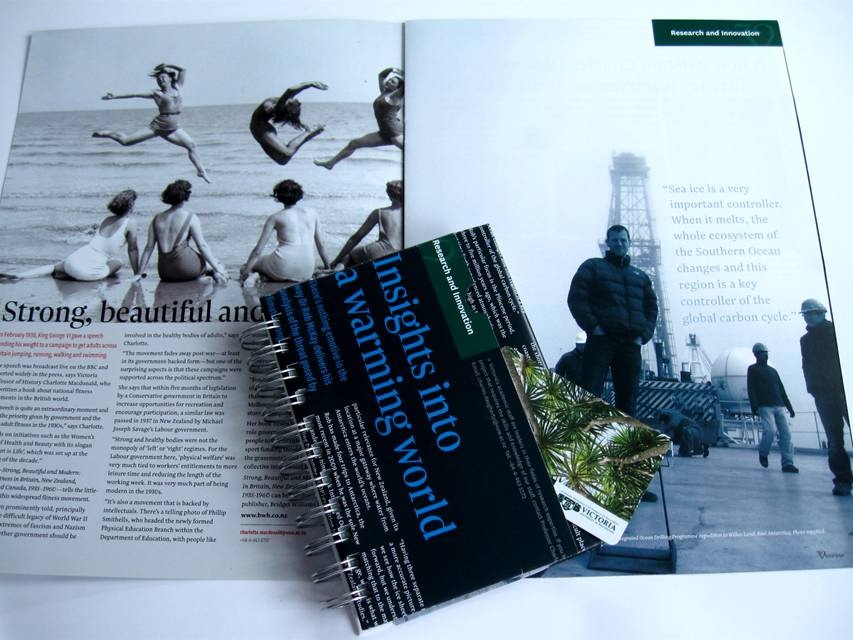 There were built-in sleeves to slip in thank you notes and business cards...



There were even name place settings for the evening dinner and card holders to reserve seats in the lecture theatre.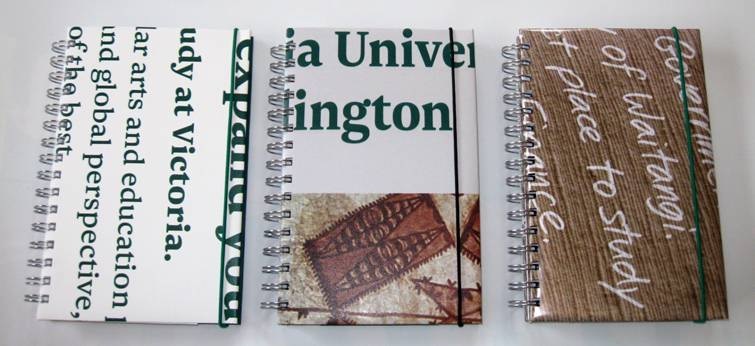 And, in case the University didn't have enough surplus copies of 'Victorious' to make all of the above en masse,
we tracked down their Adshel posters and made samples out of them too. Then, in a show of complete
dedication, the one on the right was made from a pull-up display stand, kindly gifted by the School of
Government after it had become too damaged to function anymore.

If there was a chance to earn extra credit for going where no big business would bother to go, then we were in with a grin.
Except we weren't - we didn't get chosen.

The lure of wanting to honouring Sir Callaghan's advice was strong. The interest in our goods wasn't.
In fairness, VUW had already hired us for an Open Day event and there was a delay in the offer being
receipted due to end of year holidays and staff leave, so perhaps it was a timing thing too.

Either way, this information is shared for those thinking about a start-up. Be forewarned that dating your 'beauty',
aka business idea, is going to cost you a pretty Penny or two if you've any chance of finding your ravishing Rachel.

For the best chance at success, tick all of Sir Callaghan's boxes, yet also ensure that your 'beauty' is so
attractive to you that you will court her in the rain, the dark and potentially, poverty too.
There is also something to be said for knowing when to leave her be. Fortunately, we were
chosen for ANZEA's 'Towards the Future' conference so our little love story chugs on.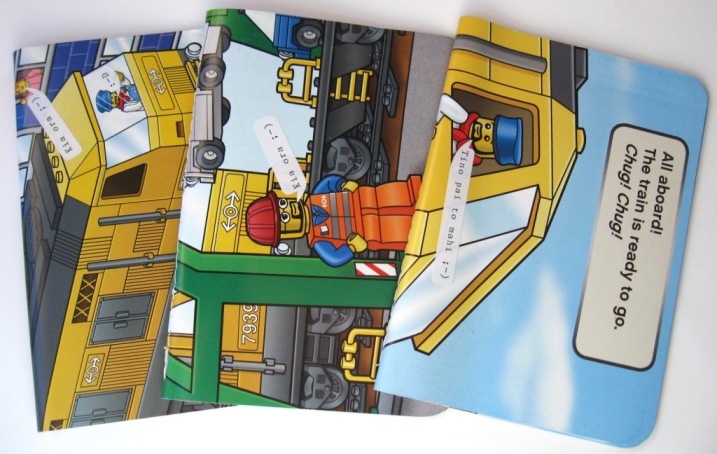 A pleasure to an incorporate Te Reo Maori - for a New Zealand in need of speaking more than one language.
If you know of a business that would benefit from making their guests feel special, then we've got the goods for them.
Whakawhetai ki a koutou mo te pãnui / Thank you for reading

PS. This page was created in a cold, uninsulated house in the hills of Wellington where airlines roar overhead, and reverberate indoors thanks to new GPS technology allowing them to save on fuel by adopting a lower, stepped approach and departure. Lucky though to have a home, even without the means to heat it, so as not to be sleeping rough or in a car, like so many are.
The point is that even the talent-challenged now find NZ difficult to live in.

The rich are getting richer on the shoulders of the poor and then they leave for overseas.
They always have; the difference is that their greed is now feeding on our public commons and institutions.
There's money being made in our air, our rivers, our aquifers, our sea, our housing stock, our schools, our universities and
our state owned assets. It's not wealth creation, it's wealth extraction and the true costs are being paid by the poor.
It is wealth that is neither ethical, sustainable or fairly distributed.

It's a topic addressed in the excellent TED talk on greed by plutocrat Nick Hanauer. He says "no free and open society can
long sustain this kind of rising economic inequality. It has never happened, there are no examples. You show me a highly
unequal society and I will show you a police state or an uprising. The pitch forks will come for us if we do not address
this. It is not a matter of if, but when". Click here to hear his 8 minute talk on how wealth could be distributed.

That Sir Callaghan achieved his success by means of his own brain and not via the exploitation of others, sets him apart.
That he also stayed on, to generously give so much of his time to help NZ, meant that he died so very loved and respected.

Many thanks to his wife and family for sharing him so well and with so many.
xox